Did you know that Virginia Beach is within a day's drive for less for two-thirds of the U.S. population?
It feels like yesterday that my family was there, but it was actually about 2 years ago we went to Virginia Beach for vacation. We hopped in the car and drove from the Philadelphia Suburbs. Before we knew it, we were in the biggest sandbox you've ever seen, that's Virginia Beach.
Once we got there, we spent most of the time playing on the wide open beach under clear blue skies, but there are so many other family friendly attractions too. My kids loved building sand castles, the play ground on the beach, the King Titan statue and, of course, you can't go to the beach without getting some yummy ice cream. We also rented one of those family bikes one day. What a work out!
Here are some other kid-friendly Virginia Beach area attractions:
The Virginia Aquarium
The Virginia Aquarium and Marine Science Center has hundreds of hands-on exhibits, an outdoor aviary, nature trail, marshlands and a 3D IMAX® Theater. You can even attend special Discover Days programs such as: Copy Cat Mimicry, Fabulous Fathers, and Investigating Invertebrates. Your kids will have so much fun, they won't even realize they're learning at the same time.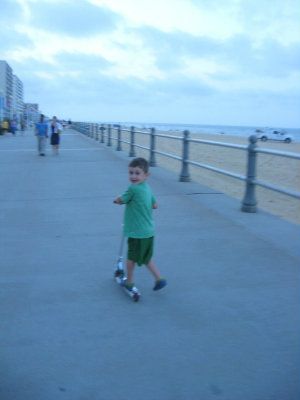 First Landing State Park
My sons love to be outside, and this park sounds fantastic! Consisting of 2,888 acres by the Chesapeake Bay, First Landing State Park offers boating, swimming, nature and history programs, hiking, biking, picnicking, a boat launch, and cabins. Virginia State Parks are a great way to let your kids explore nature and get their hands a little (or a lot) dirty.
Beach Street USA
From mid-June through Labor Day weekend you'll find concerts, festivals, and activities around the oceanfront resort area in Virginia Beach. While we were in Virginia Beach, I remember sitting near the beach and listening to music with the kids. It was extremely relaxing! Some of the most popular events include: Hardee's Latin Fest, Verizon Wireless American Music Festival and last but not least, the Mid-Atlantic Hermit Crab Challenge. Doesn't that sound like fun?!
Don't forget another great benefit of driving to your vacation destination: you can pack up the car with all of your kid's stuff and favorite beach gear. I was so happy we brought my son's razor scooter with us because he had a blast riding alongside the beach after dinner.
What are your plans for the summer? Have you thought about a little road trip to Virginia Beach?
I wrote this blog post while participating in the SocialMoms and Virginia Beach blogging program. For more information on how you can participate, click here.