My sister shared a secret to EASY healthier brownies, and I was so impressed. But, before I tell you what the secret ingredient is, I have to tell you how easy and yummy these brownies are. And, by making one easy substitution, you cut a significant amount of fat and calories, and they taste excellent.

Calories = 116 for my version / 170 if you follow the directions on the package
Fat = 3 g for my version / 9g if you follow the directions on the package
Plus, with these brownies there is less cholesterol, more protein and more fiber.
They are really moist, have a great texture and the kids LOVED them!
Here's the trick: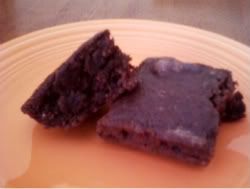 One box of Family Size Brownies.
One 15.5 ounce can of Black Beans. If you're anything like me, you're probably thinking, um... no thanks, I think I'll stick with good old fashioned brownies. But, you have to try it!
When my sister first mentioned this to me, I completely shrugged it off. But, I'm glad I kept an open mind. You cannot taste the beans at all - not even a little bit. I would bet that you could serve these to anyone and they would NEVER GUESS your secret ingredient.
It's super simple:
1) Just empty the can of black beans into a colander and rinse them thoroughly with water.
2) Pour the black beans back into their original can and fill it with water.
3) Puree the beans and the water. My sister has a immersion blender that we used. But, you could also use your blender to puree the mixture.
4) In a bowl, combine your pureed black bean & water mixture with the entire package of brownie mix.
5) Once it's all thoroughly mixed up, pour it in your greased brownie pan & bake according to the directions on the box.
I know lots of moms (myself included) want to make healthier meals and snacks for our families without spending lots of time in the kitchen. Making brownies like this is so easy. My two kids and my sister's son enjoyed these brownies so much they all had a second serving. They are kid tested and approved!
Will you give this a try?