This post, and the excellent photographs that go along with it, are courtesy of my friend Jen. She was nice enough to give me valuable tips for my trip to Disney World in Florida, which I am excited to test out! Jen and her family go on magical Disney vacations twice a year, so she really knows what she's talking about!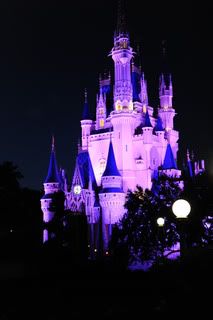 I wish I could click my heels 3 times and go to Disney World RIGHT NOW! But, since I can't, I would love to share some tips for anyone who may be heading there soon.
1) If you're planning on going to Hollywood Studios here are important tips to keep in mind: You need to get there in the morning when they open - fast passes for Toy Story Mania are GONE by 10 or 11! And, if you have a Star Wars lover in your house, you won't want to miss Jedi Training Academy. But you have to get over there first thing, and register for a show time - that fills up quick too! As soon as we get to the park, we usually go straight to Jedi to sign up, then right over to Toy Story to get fast passes. When that's done, go off to enjoy the park.
2) You'll definitely want to take advantage of 'Child Swap'. According to the Disney Family website, "The rider swap allows one adult member of your party to wait with the child who is too small to ride, while the rest of your party experiences the attraction. When your party is finished riding, the person waiting with the child is allowed to ride the attraction without waiting in line, and they can take up to three other people with them." You can read the rest of the details here. But, this is a great feature for families of small children.
3) Don't forget that rain ponchos can be found at the dollar store in 2 packs! But, if you're like me, and plan on going to Disney World often, it is worth it to buy the Disney ponchos in the theme park. I bought ours a while ago and re-used them on every trip. They hold up well and I like wearing them on water rides to stay a little drier.

4) I carry a bunch of fruit snacks and dum-dum lollipops with me. The lollipops are perfect on the plane for kids who are too small for gum. The fruit snacks help curb the kids' cravings for the candy that they see all over the theme parks.
5) At Epcot, inside The Land....The Seed Tour was a little pricey and 45 min but all 3 kids LOVED it. My kids were about ages 2, 4, and 7 at the time. It was very educational and they released ladybugs into the greenhouse at the end.
6) At the Magic Kingdom, you might want to ride the train (right at Main Street) over to Frontierville first thing in the morning. We have done that before and seemed to stay ahead of the crowds all day.
7) Take advantage of the little street shows. Even if the weather is crappy, the cast members make things fun!
8) If you're one of those moms who gets home from vacation and realizes that you're not in any of the photos, then you'll want to look into Disney's PhotoPass. Disney has photographers scattered everywhere throughout their parks. I found that the photo pass was really helpful to have. They grab good shots of all the characters and some pretty nighttime family shots too. It's the only we get photos of our entire family.
And, I have a secret website for $50 off the DVD, but it must be purchased before you arrive. Here is the link.
9) Ohana at the Polynesian is our favorite breakfast. It's a character breakfast with Lilo & Stitch and my whole family loves it!
9) My personal goal is to grab an adult beverage in every county in Epcot! I've gotten close..... : ) And, I highly recommend the Woodpecker cider at the Rose Crown Pub.