A friend of mine gave me this recipe for pulled pork and I am so happy that she shared it with me. It's one of those no fuss, simple recipes where you don't need to measure anything. Two of the three ingredients you may already have in your pantry. And, no matter what you do, you really can't go wrong. Seriously!
It is so easy that I'm even a little reluctant to even call it a recipe.
So, here's the deal...
You'll need 3 things:
1 two liter bottle of Root Beer Soda. I used Wegman's brand.
1 Large Bottle of Barbecue Sauce - My friend swears by the Sweet Baby Ray BBQ sauce.
1 Big Piece of Pork. I used a 'Pork Shoulder Picnic' because it was cheaper than the loin. I was able to use it for dinner when we had family over and we still had enough left overs for lunch the next day.
'Pork Shoulder Picnic' has a thick layer of fat and skin that you'll need to cut off prior to placing it in your crock pot. So, if you want something that's a little less fuss, I would suggest buying a boneless pork loin.
What to do:
1) Place the pork in your crockpot.
2) Pour in the Root Beer soda until it covers about 3/4 of your pork.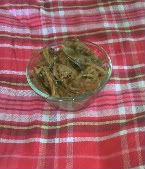 I used more than 1/2 the bottle of Root Beer soda for a big 'Pork Shoulder Picnic.' Obviously, the smaller your peice of pork, the less soda you will need.
3) Cook your Pork & Root Beer in the crock pot (on the appropriate settings) until it is done. If you're not sure how long to cook it, you can check the crock pot website here.
4) Once it is fully cooked, drain the liquids, so that you only have the Pork in the crock pot. If you are using a piece of pork with bones, be very careful to remove & discard any bones.
5) The pork should be so tender and juicy that it should just fall apart. Then, just add your favorite Barbecue sauce and pull the meat into shredded pieces. Mix it all together and you're done.
I was amazed at the complex flavor the pork had considering how easy this was to prepare. It's a quick and easy recipe you can do any time of year and I think you'll be impressed with how great it tastes.