I love spending time with my kids, but sometimes a good mom's day out is a must. Last week, I had a wonderful day in New York City with some really fantastic women at a Fitness Magazine event in New York City and it totally inspired me. There were some major fitness fanatics there, and I had the chance to learn more from some health, fitness and fashion experts including:
Fitness Nutrition Editor, Juno DeMelo, Keri Gans and Tanya ZuckerBot spoke about The Real Deal on Carbs, Cleanses and Caffeine. During this session, I learned how important a healthy, balanced diet really is. It's not about cutting out major food groups and never having a cup of coffee. It's about embracing a healthy lifestyle and incorporating good habits into everyday life. You can follow these ladies on Twitter @junodemelo @KeriGans @F_Factor.
Image Courtesy of Sherry www.SuperExausted.com @BabyPop
It has been so long since I've been to a fashion show, so I really enjoyed the session: Gym to Street: Fashion Tips That Will Help Stretch Your Spandex Beyond The Gym with Fitness Magazine's Fashion Director Argy Koutsothansis on Twitter @ArgyStyle). She paired fitness wear with traditional pieces and it really created some very cool looks. So many of the featured looks reminded me of Jockey Person to Person. It really is possible to be comfortable and cute at the same time. It just takes a bit of creativity. And, just like Sunil Ramchandani from Jockey P2P, Argy believes that confidence is the best accessory that anyone can have. Isn't that so true?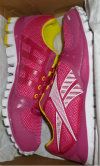 Throughout the day, we also had the opportunity to check out some very cool brands...

We were introduced to the fashionable and fitness friendly Oakley Women's Sunglasses. You can see some of my friends and I modeling them above. I never knew Oakley made such cute sunglasses until #FitBlogNYC and they really do stay in place when you're working out.

Reebok's Flex Sneakers are super cute and designed to promote natural movement of the foot. They're also incredibly light on your foot and very comfortable. Not only do they allow your feet to move and flex as you work out, but they come in some of the coolest colors too - perfect for summer!
It was nice to see Birkenstock showing off their new colors and styles that I had not seen before. I thought I knew the Birkenstock brand, but I had no idea that they had trendy new colors like black patent leather, scuba blue and silver. If you only remember the Birkenstocks from the 1990's you really need to get reacquainted with them. BirkenstockUSA.com
There were so many great brands at #FitBlogNYC, I'm going to have to save some of them for another blog post. More importantly, this event helped me stay focused with my mission to lose weight and stay fit. After the event, I signed up with a friend at Weight Watchers and I'll be keeping you updated on my progress. So far, I'm off to a great start. : )
What helps to keep you focused with fitness and maintaining a healthy weight? Is it your friends, group fitness classes, your active kids or all of the above?