One of my lucky readers will win their very own T-Fal Actifry! Yet, before I tell you about that, I want to give you the scoop on the Actifry and why I've really enjoyed using it. It's ridiculously easy to use and it provides a nice healthy alternative to other cooking methods.
If you're like me, when you hear the word "fry" and immediately think about fat, grease, oil. Yuck! But, the Actifry is actually not a deep fat fryer at all and it makes low fat cooking easy. ActiFry is patented technology with pulsed hot air and constant stirring of ingredients with paddle that allows the perfect cooking of food with little to no oil (1 tablespoon of oil).
When I first opened my T-Fal Actifry, it took less than a minute to learn how to use it. There are two buttons 1) Timer and 2) On/Off. There are some kitchen appliances that I dread cleaning , but this is not one of them. The Actifry has a smooth non-stick surface that is extremely easy to clean and most parts are dishwasher safe which makes me super happy!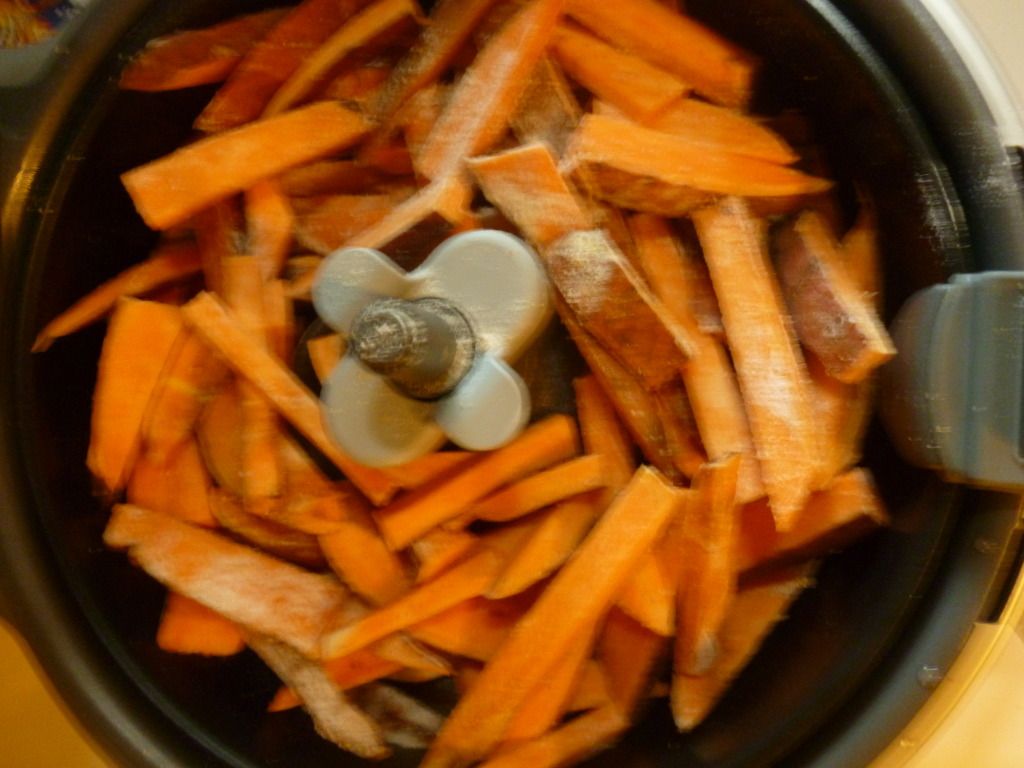 I made some sweet potato fries with the Actifry and they were awesome! You might be wondering why the Actifry makes better fries than a deep fryer or your oven, so let me tell you. First of all, I used only 1 table spoon of oil for a family size portion of fries. They were not greasy, because there is no excess grease. They tasted as good, or better, compared to any sweet potato fries I've had in a restaurant.
You can also make chicken nuggets, stir fry, curry, seafood dishes, dessert, and so many other recipes with the Actifry. Also, do you remember those crunchy baked chickpeas that I made? They were a little tricky to get perfect by using the oven, so when I saw a recipe on the Actifry website for them, I was really happy. Since the Actifry is constantly stirring the ingredients, everything cooks evenly. No need to flip anything or shake anything. You just press the 'On' button and walk away. It does the rest.
If you're still looking for a Mother's Day gift, you can purchase the T-fal Actifry in Bed Bath and Beyond.
Would you like to win your very own Actifry? One lucky LocalFunforKids.com reader will win an Actifry. { Contest now over }
This is a sponsored post. See my full disclosure and terms of use here.