As we were driving down Route 1 in a torrential downpour of rain, I was almost regretting my decision to meet up with friends for the Herr Factory tour. Even though it was 9:30 in the morning, the rain was so intense that it resembled night time. Then, finally, the skies cleared up, we cruised down the road and arrived in Nottingham, PA, perfectly on time for our tour of the Herr's snack factory.
From that point forward, I knew we were going to have a good day!
Both of my kids were extremely excited to go to the Herr's factory. But, then again, what kid wouldn't love to meet up with friends and be surrounded by tons of potato chips? My 4-year-old just had one concern: Why is it called "Herr's?" Is it for boys too? After I assured him that boys were welcome at the factory (and were equally welcome to sample some potato chips) he was ready for the tour.
We began our tour of the Herr's Snack factory in a small auditorium where we learned the history of Herr Foods and about the courtship of James Stauffer Herr and Miriam Hershey. We learned all about the origins of the company and how they have grown over the past 65+ years.
We started the walking tour by seeing large balls of dough that are used to make Herr's pretzels. Then, we moved onto the tortilla chip production area and warehouse where there were thousands and thousands of boxes of freshly made snacks. When we arrived at the potato chip production area, our cordial guide, Kyle, filled a tray of potato chips directly from the production line, and handed everyone a nice size sample. I wish I could show you a photo of the kids' happy faces while they were eating these warm chips, but we weren't allowed to take any photos on the tour. Everyone was savoring each little bite.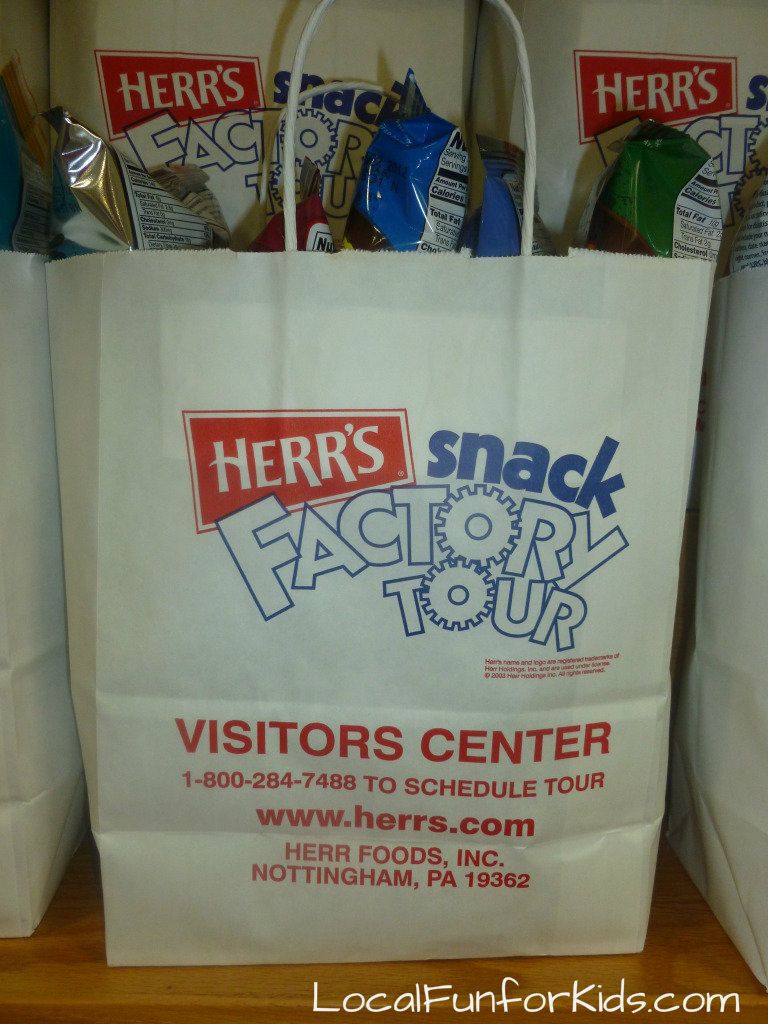 All in all, the day was a complete success! In our group, the kids ranged in age from 1 to 6 years old, and they all really enjoyed the Herr's factory tour. When the tour was finished, we all got together for lunch in Chipper's Cafe and did some shopping in the store. From now on, whenever I see a bag of Herr's snacks, I'll think about one man's dream to grow a potato chip business and a really fun afternoon with friends.
DON'T MISS THE CHANCE TO WIN A PRIZE FROM HERR'S!
Would you like to try Herr's products for yourself?
All of the employees I met at the factory were exceptionally friendly and knowledgeable. They are so nice, that they actually offered to send 1 of my lucky readers a surprise pack of Herr's products. If you live in the U.S, are 18 or older, and would like to enter to win, just leave me a comment (under this post) of your favorite potato chip flavor. Don't forget to enter in your email address so that I can contact you if you win! I'll use random.org to select a winner on August 27th.
To learn more about Herr's and their factory tours go to Herrs.com
Congratulations to Danielle! You are the winner!