Is it just me, or did October come around so fast? I feel like we just started getting the kids ready for back-to-school and now my house is decorated for Halloween and Thanksgiving!
Do you have Halloween costumes picked out for your kids yet? Luckily, neither of my boys have their hearts set on a specific costume this year, so we're going to improvise with costumes we already have or make something. I'm 100% okay with that! I'm sure my parents bought me some costumes when I was growing up, but I also have fond memories of dressing up as a punk rocker, dancer and other homemade or recycled outfits.
If you're not in the Halloween spirit yet, there are so many cute ideas in this this week's Kid's Co-op.
Check it out!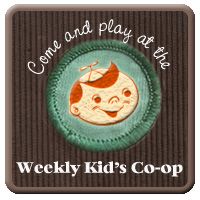 /">src="http://i1089.photobucket.com/albums/i357/localfunforkids/kidscoop.jpg" border="0" alt="Photobucket" />