Collectively, we've already lost about 30 pounds. I think that's pretty darn impressive!
The last 2 weeks have gone by so fast. I still have about 4 more pounds to lose, but I want to lose a couple extra pounds on top of that just to have a safety net. Remember we are playing for money here, and I really don't like losing.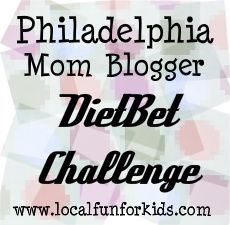 There are 9 women who have come together for this DietBet to support each other and challenge each other. And, we're doing exactly that! It's incredibly motivating knowing that we have a set date (almost 2 weeks from now) when we will meet up again, get on the scale and face the truth.
We've also been chatting in our private DietBet forum that you get when you sign up for a DietBet. In the forum I was reminiscing about my honeymoon. Once upon a time, I was thin enough to wear a string bikini, and I still wasn't happy with my body. I don't even have one photo of myself it that bikini because I was so self-conscious. What the heck was I thinking??!! I would love to be that size again. But, looking back on those moments remind me that it's so important to be appreciative of what I have now.
Health.
Family.
Friends.
All of the little things that make life special.
Those are the things that really matter.
Have you also been trying to lose weight? Do you think you could get your friends and family together for a DietBet?
Disclaimer: I hope to win a portion of our DietBet pot which DietBet contributed money to.You can read my full disclosure here.