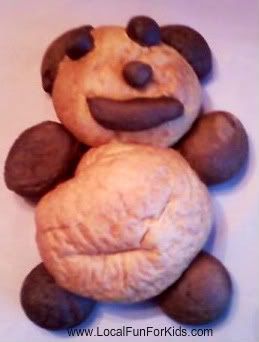 There he was... all soft, round and almost huggable. I was shopping at the supermarket with my son when I caught a glimpse of a Teddy Bear Bread smiling at me from across the isle. I couldn't resist. Something about him, just screamed "BUY ME & TAKE ME HOME!"
The plan was to eat the bread with dinner the next day.
But, before dinner, my little guy was getting cranky. He's in that transition to becoming a 'no nap kid'. And, he wasn't just cranky... it was the no-nap-end-of-the-day type of cranky that was getting worse by the minute. So, I gave him the teddy bear bread and a tub of Smart Balance and let him go at it!
What went first?
The smiling mouth of course. Then, off goes the arm... the eyes... and the ear...

The happy teddy bear, wasn't looking so good anymore. But, my son was happy. : )
It was a mess. He got little bits of bread and butter all over the new tablecloth. Before I became a mom, I probably would've thought this was crazy.
I let my little guy have fun 'buttering the bear' and eating some bread, until he decided he was having more fun playing with the butter than anything else.
But, this little activity was just what we needed to get through that tough time of day when you've run out of ideas for things to do with the kids.
Thank you little bear.