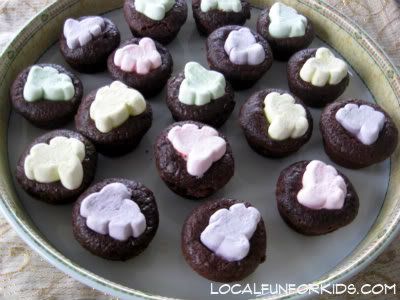 Q: What do you get when you make mini brownie bites and add some bunny marshmallows?
A: An easy to make & delicious treat that your friends and family will love.
I found these Jet-Puffed Bunny Marshmallows in the supermarket. They are in little bunny shapes and lighted tinted in pastel colors that are perfect for Spring and Easter. My kids love any type of marshmallow, so I knew these would be a hit!
For these Easter Brownie Bites, you can use any type of Brownie mix you want, or make the healthy version that I made here.
If you read my previous post about the black bean brownies and thought it was gross, I dare you to try it ONE time. I would bet that everyone in your house loves them and not a single person would ever guess what the secret ingredient is. But, you can always stick with your favorite brownie recipe too. I was skeptical too, so I understand.
Here's how to make these easy, yummy Easter treats...
Just use a mini-muffin tin to make your brownie bites. Then, as soon as you get the brownies bites out of the oven, firmly press a bunny marshmallow onto each one. They should be hot enough to melt the very bottom of the marshmallow onto the brownie, but still keep the marshmallow in tact.
Then, let them cool and you're done! See... I told you this would be easy. I recently made these and everyone loved them. I don't know what they loved more, the mini brownies, the bunny marshmallows or the combination of the two. But, whatever it was, it did the trick!