First of all, let me tell you that this is the first time in my life I've ever made brownies from scratch and it was so much easier than I thought! The only brownies I've ever made in the past have come out of a box and, for some reason, the thought of making homemade brownies completely intimidated me.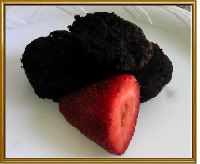 So, if you read my post a few months ago, I thought I found the ultimate quick and easy healthier brownie recipe. But, now, there's a new recipe in the running. It started when a friend and I were trying to come up with new recipes to use the zucchini from her garden. She found a great recipe for Zucchini brownies and we were both blown away!
The original recipe can be found on AllRecipes.com. But, here's my version:
1/2 cup Olive Oil (or you can also use Canola oil)
1 1/2 cups white sugar
2 cups all-purpose Whole Wheat Flour
1/2 cup unsweetened cocoa powder
1 1/2 teaspoons baking soda
1 teaspoon salt
3 cups shredded zucchini
2 teaspoons vanilla extract
Note: In an attempt to bake healthier, I only use Whole Wheat Flour. This recipe takes good with Whole Wheat Flour, but, it definitely tastes better with White flour. So, if you're trying this recipe for the first time, you may want to use White Flour or half Wheat / half White.
Preheat oven to 350 degrees F . Grease and flour a 9x13 inch baking pan.

Mix together all of your ingredients in a large bowl and spread evenly in your baking pan.


Bake for 25 to 30 minutes, until brownies spring back when gently touched. Spread over cooled brownies before cutting into squares.
Zucchini Brownies and Black Bean Brownies are totally different.
Zucchini Brownies are very moist and delicate. My sister compared it to a chocolate Devil's Food Cake. They are so light that I tried to make them into mini brownie bites and they were so fluffy and moist that it was difficult to get them out of the pan. This recipe only takes about 5 minutes to prepare and is completely kid-approved! So far, about 7 kids have tasted them and all 7 have loved them.
Black Bean Brownies only involve two ingredients: a box of brownie mix and a can of black beans. You can get my recipe for these healthier brownies here. They are very moist and dense. The kids love these too, and you really can't tell their are beans in there.
So, this is an easy way to use up your zucchini this summer. Do you have any unique ideas for using veggies or herbs from your garden?