So, our big Disney vacation is soon approaching - Woohoo! I already know we are going to spends lots of money at Disney World and buy things we wouldn't normally indulge on. That's a given. However, the thrifty side of me really wants to be prepared as much as possible to cut down on our expenses.
I've been to Disney World so many times as a child and this is my third visit back since I've had kids. Here are some of the things I've gotten before the big trip to help save us money: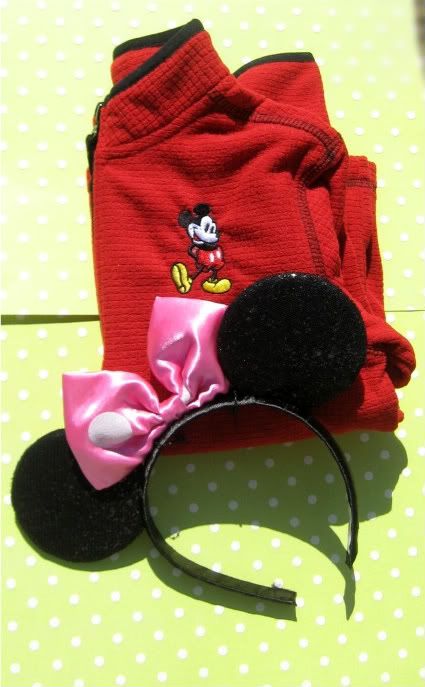 I love browsing the Disney Store website. When I saw a good sale, I bought each of my sons a monogrammed fleece pull-over for a less than $15.00 each (including the personalization), and some Minnie ears for only $4.99. I know I'd never be able to get them personalized sweat shirts this inexpensively once we're in the park. So, I am really excited about this. I could have saved even more money if I remembered to use Ebates. Right now, Ebates is giving 5% cash back rebates on all of your Disney Store purchases made through them. If you plan on buying from the Disney Store online, you should definitely buy through Ebates and save extra money.
I also bought these mini Mead notebooks for the kids to use as autograph books. I didn't think it was necessary to spend over $7.00 each for autograph books, so I picked these books up for less than $1.50 each and have some Disney stickers that the kids can use to decorate them. The kids will still have their Disney autograph books, just for a heck-of-a-lot cheaper!
Anyone who has ever been to Disney World or Disney Land knows that there are tons of shops and kiosks all around the park with any type of Disney themed mercherchandise you could possibly every dream of. It's inevitable that I'm going to get suckered in and buy some souvenirs for my kids. The stuff is so darn cute. But, I found some Disney themed goodies for the kids that will help curb my urge to shop. The Disney silly bands I saw while checking out at the grocery store - they were $1.00. And, Dollar Tree had these cute Mickey Mouse watches and Disney Pez Dispensers - also $1.00 each.
I still have to buy some cheap rain ponchos. But, other than that, I think I'm done. Do you have any suggestions? I feel like I have a good grasp on it, but I'm sure I am missing something.
If you're going to Disney soon, you may also want to read this: Disney with Kids: Tips from some of the Best Disney Blogs!